Content:
Introduction
Nowadays, many BI-platforms and tools for visualization of analytical data in retail (and beyond) which allow to present information visually and share it with users. In this article we will analyze and compare the most popular and widely used BI-systems. High-quality business intelligence is extremely important today, so it is necessary to evaluate the advantages of the offerings.
Making an objective choice among various BI-platforms is quite difficult due to the multitude of opinions and the range of features and capabilities evaluated. Below you will find information that we have tried to outline based on a common framework for evaluating the performance of such tools.
We will look at popular platforms such as Qlik, Klipfolio, Tableau, Power BI, and of course Datawiz. In the comparison, we will provide general information and key features, including usability, features of working with different types of data, and more. Let's get started!
Datawiz.io is the Ukrainian company specializing in creating analytical tools and services for data visualization in the retail industry. The service allows automating business processes for retail chains and extracting valuable insights from data necessary for making strategic decisions. The company's products are based on advanced artificial intelligence technologies and predictive algorithms.
Datawiz BI allows to create personalized dashboards and visualizations based on available data. The main goal of this business intelligence platform is to facilitate real-time analysis of key metrics and monitor changes that can affect chain performance. The service provides reporting to track sales dynamics, analyze assortment efficiency, evaluate the results of marketing campaigns, check supplier reliability and loyalty program effectiveness.
PlanoHero is a cloud-based service developed in 2017 by Datawiz.io to automate the processes of planogramming and analyzing store plans in retail. This tool offers a full cycle of work with merchandising: from drawing general store plans to equipment placement, creating planograms, setting lay-out rules, sending planograms to all stores in the chain and checking their implementation with photo reports.
Store Manager is a mobile application designed for store managers. It allows to monitor key store indicators, solve product problems and evaluate plan fulfillment right from your mobile device. Daily data updates provide up-to-date information on the store status, allowing you to identify problem products, monitor plan fulfillment and create tasks with the help of the task manager.
Data Monetization is a feature of the company that provides a platform to sell retailer data to suppliers. This helps reduce wastage, improve checkout planning and achieve better promotional results. The platform includes more than 30 powerful out-of-the-box interactive reports for suppliers, offering over 300 available daily metrics and the ability to create custom data dashboards.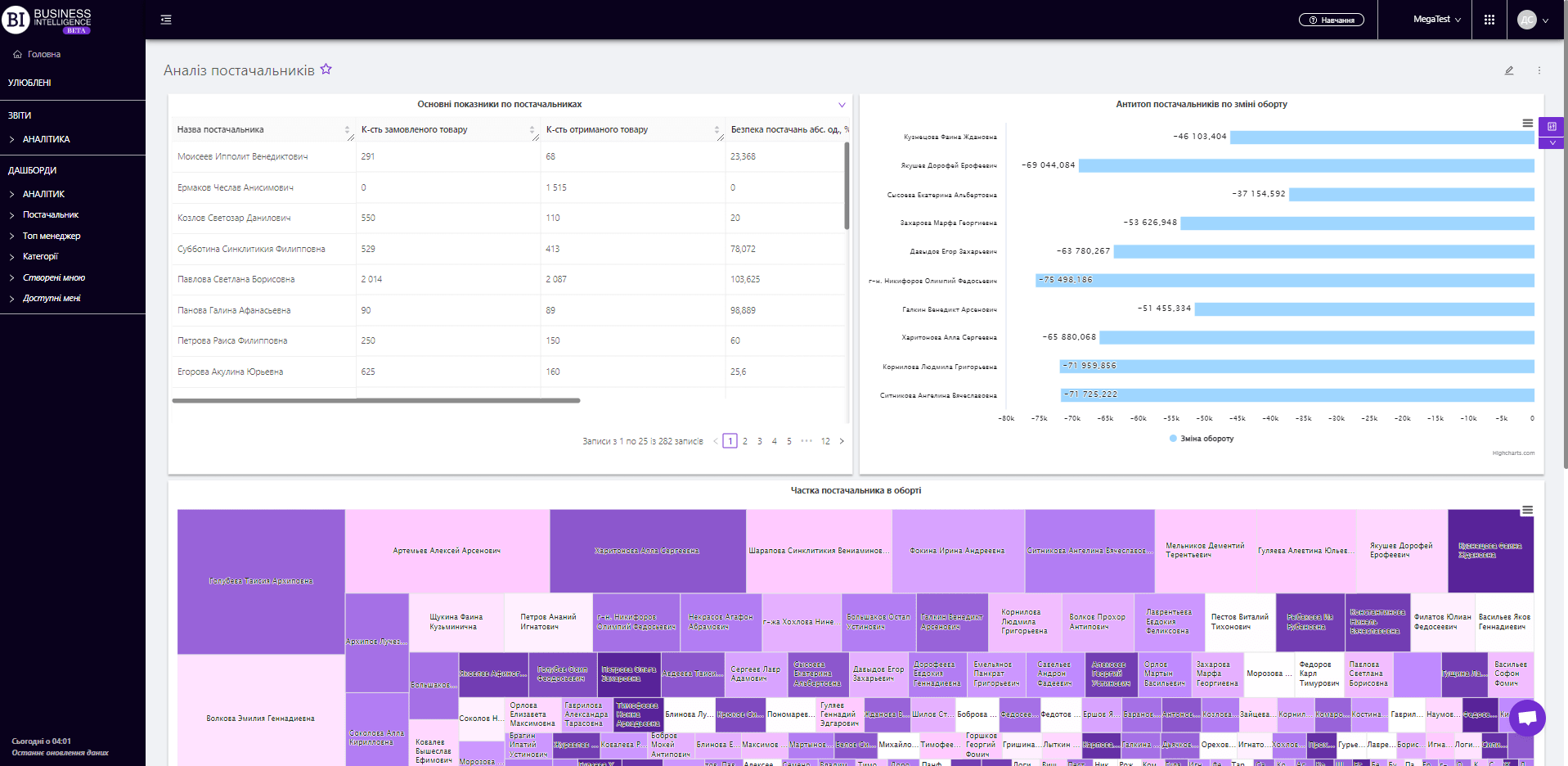 US-based Tableau is one of the leaders in data visualization and analytics. It provides tools for creating interactive dashboards and reports. Tableau supports a wide range of data sources and has a strong user community. Supports connectivity to a large number of data sources, including databases, Excel files, web services, and others.
Tableau Public is a free version of the platform that allows you to publish visualizations to the public;

Tableau Desktop, a service for creating visualizations;

Tableau Server, for hosting in the cloud;

Tableau Online, hosted in the cloud.
Power BI is a business analytics platform developed by Microsoft. It provides capabilities for analyzing data, creating interactive reports, and integrating with other Office 365 applications. Power BI has tight integration with other Microsoft products such as Excel, SharePoint, and Azure. It allows to create reports, dashboards, analyze data, visualize results, and more.
Power BI has capabilities to automate data updates and create report update schedules. Users can easily collaborate on projects and publish reports and dashboards for sharing.
The service uses the DAX (Data Analysis Expressions) language to create calculations and manipulate data. There is both a cloud version and a version for deployment on the corporate network.
Sweden-based developer Qlik provides data analysis and visualization software. It is known for its associative data model which allows users to explore relationships between data without the need for prior data preparation. Developers offer solutions that enable organizations to visualize and analyze data from a variety of sources to make more informed business decisions.
QlikView is a platform for creating interactive reports, dashboards and data analysis applications. It allows users to combine and visualize information from different data sources;

Qlik Sense is a more modern and scalable BI platform that provides extensive data creation, visualization and analysis capabilities.
Klipfolio is a Canadian company specializing in developing tools for business intelligence and data visualization. The platform allows businesses to aggregate, monitor and visualize data from various sources in real time. Their product provides tools to create customized dashboards and reports, allowing businesses to make quick data-driven decisions.
The service supports integration with multiple data sources such as Google Analytics, Salesforce, Excel, SQL, and others. Users can create custom data visualizations as well as use pre-defined templates.
Klipfolio typically integrates with other tools such as CRM systems, project management systems and many others, allowing companies to aggregate data from various sources.
Klipfolio has a community of users and partners which facilitates sharing experiences and expanding the platform's capabilities.
Make decisions based on real data with Datawiz BI